Partner with Us for PD that Supports Educators Every Step of the Way
HMH Coachly provides teachers with personalized professional learning and unlimited, 1:1 support from a dedicated instructional coach.
HMH Courses provide professional learning grounded in evidence-based pedagogy that connects with your HMH Program.
Leader Support provides the support leaders need to plan, problem-solve, and navigate challenges.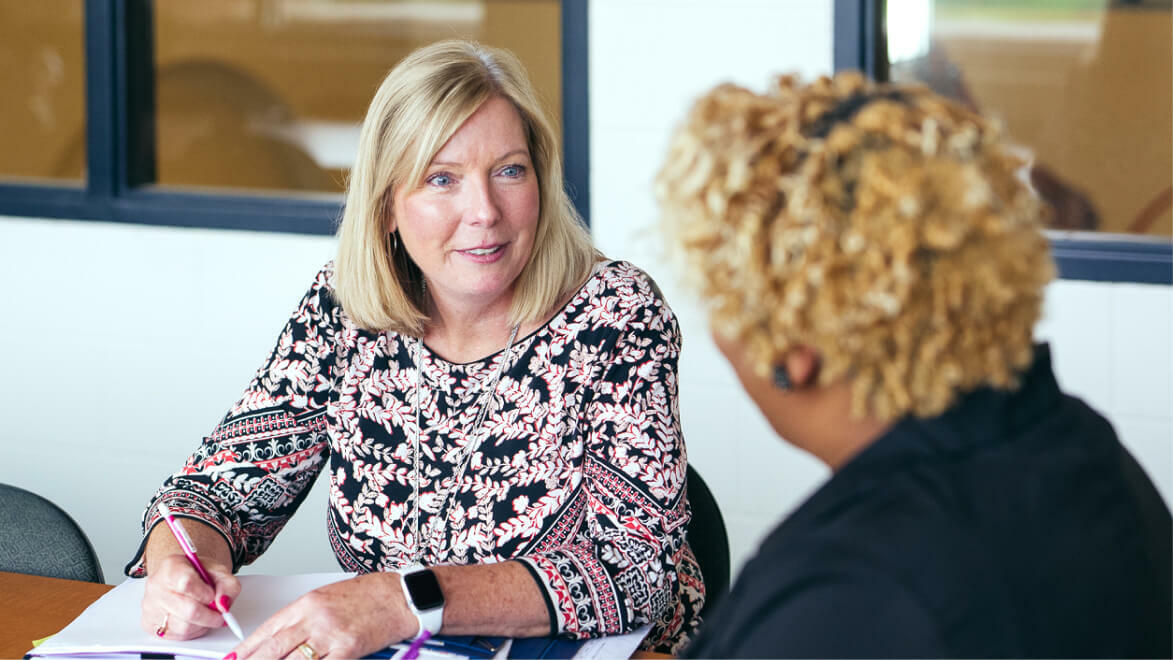 Implementation Support offers guided learning pathways on Ed to ensure teacher success within the first 30 days.
The coaching work has transformed our teaching. We've seen amazinggrowth in our teachers and students. Just the way that students arethinking is tremendous.
Professional Development for Teachers to Address Today's Challenges
Personalized Professional Development for Teachers and Leaders
Coaching for HMH Programs
Coachly gives teachers ownership over their professional learning schedule with year-round, unlimited access to a dedicated instructional coach via the Ed platform. HMH Coachly Includes:
Collaborative teacher/coach goal-setting.

Unlimited messaging with a dedicated coach.

Self-scheduling of 30-minute virtual sessions.
HMH Courses
Create a tailored professional learning journey for educators in your school/district with additional PD experiences.
Program-Aligned Courses connect evidence-based pedagogy with daily classroom instruction through your HMH program to meet your school's specific needs.
Live online courses provide relevant, ongoing PD curated to your grade-level and subject and address today's most pressing classroom challenges.
Leader Support
School and district leaders partner with a Center for Model Schools executive coach who can help with:
Creating and implementing a strategic plan
Analyzing curriculum, instruction, and assessment
Aligning HMH programs to your district's goals
Unlimited Guided Implementation Support
HMH programs include guided learning pathways that are easily accessible through Ed the HMH learning platform. Teachers get unparalleled support in their program-specific Teacher Success Pathway:

A recommended sequence of topics, which includes live sessions, videos, model lessons, and related resources
New and veteran educators starting anytime of the year learn at their own pace and on their schedule
Unlimited access to pathway resources to plan, teach, and assess learning using their new HMH program
HMH subscriptions also include unlimited yearlong access to Teacher's Corner® in Ed offering live online events, scaffolded resources, and classroom videos.
Teacher Success Pathways
HMH programs now include Teacher Success Pathways that help new and veteran educators learn at their own pace and on their schedule, providing unlimited access, unlimited choice, and unlimited benefits. See a Teacher Success Pathway in action and discover how this personalized experience makes learning to teach with HMH programs easy.
Support for Teachers, Leaders, and Families
Teacher's Corner
Teacher's Corner provides model-lesson videos, teacher tips, and interactive support—on your schedule. At free live events, work with fellow educators to address today's instructional challenges.
Leader's Corner
The award-winning professional learning available in Teacher's Corner isn't limited to teachers. Administrators can also access on-demandresources, leader-specific live events, resources for PLCs, anddownloadable templates for classroom observations.
Family Room
HMH Family Room is an ever-growing library of on-demand resources in English and Spanish that provides families and caregivers the tools they need to support their child's learning.
To me this is perfect, because I don't have to be at school. I can literally be in my kitchen…I'm more relaxed. I got my icy cold drink. I got my chips. And I'm like yeah, this makes sense.
Professional Learning Partner Guide
HMH Is a Certified Provider
Teacher Success Pathways, Teacher's Corner®
Explore professional learning solutions that meet educators' needs.
Instructional Coach Interview Questions
Get instructional coach interview questions, plus additional expert tips on what it takes to best support teachers.
100-Day New Principal Entry Plan
Becoming a principal is a great accomplishment, but now that you have the job, what's next? Learn how to put a first 100-days entry plan in place.
7 Fun Team-Building Activities for Teachers and Staff
Teachers in America podcast guest, Whitney Aragaki, shares her favorite fun team-building activities for teachers and staff!
Explore professional learning that meets your needs.
Online Professional Services
Contact Us about Professional Learning
Please note: If you have a question about billing, an order, an invoice, or just need technical support, please contact support.

Thank You for contacting us about Professional Learning ! Please check your email for next steps.
Thank You for contacting us about Professional Learning ! Please check your email for next steps.