Empower students to become reading superheroes!
The right leveled readers can ignite a love of learning while building solid character traits. In this brand new Rigby® leveled reader series, seven lovable student-superheroes battle it out with eight unforgettable villains to protect their school and city. As the heroes face and overcome challenges, they model desirable traits that reinforce social-emotional growth, while manageable instruction in each lesson emphasizes development of these traits.
Beginning with wordless books in Pre-K and progressing through chapter books in Grade 4, your students will build key literacy and character skills while immersing themselves in the playful adventures of heroes who reach their goals by making good choices.
Action-packed fiction
Inspire students while building literacy and SEL skills with 78 thrilling stories at 13 distinct levels.
Rich social and emotional learning
Empower students with exciting adventures that teach them to believe in themselves and act on their potential.
Rigorous instruction
Build comprehension, vocabulary, and fluency while engaging students at high depth-of-knowledge levels with take-and-teach lesson plans.
Get more information about Hero Academy®.
Explore the Series
Choose the package that's right for you! Each of the 13 level sets features six books with a range of Lexile® levels and Fountas & Pinnell scores.
See a comprehensive list of all 78 books, along with a colorful series poster and an overview brochure for sharing. Energize your bookroom today!
Download the full list of prices and packages, with titles, grades, Lexile levels, and F&P scores.
What makes Hero Academy so powerful?
Exciting themes and topics throughout the 78-book series keep students reading—and coming back for more!
In the context of lively lessons, students develop vocabulary, oral language, fluency, and comprehension at high depth-of-knowledge levels.
Characters with recognizable strengths and challenges help students make real-world connections and build social and emotional skills.
Students practice speaking and writing to express understanding in response to text-based prompts.
Seamlessly integrate literacy, SEL, and engaging activities.
Flexible take and teach lesson plans accompany each book and combine focused social and emotional learning with small-group literacy instruction at 13 discrete reading levels.
Text X-Rays save valuable preparation time and zoom in on essential text elements, including key ideas, language, background, and culture.
Meaningful response activities foster analysis and synthesis as students develop curiosity and make real-world connections.
Join the fun and help your students become reading superheroes with Hero Academy!
Resources
Realize the power of independent reading. Explore research and strategies to build equity through books and libraries.
Uncover powerful insights from decades of research to help you empower every student to be a reader.
Find concrete strategies to build reading engagement and enjoyment.
Download the colorful poster and share it with your students and colleagues!
inFact
inFact's nonfiction informational tests for Grades K–5 encourage students to read closely and find evidence, boosting comprehension skills and success on high-stakes standardized tests.
HMH Reads™
HMH Reads offers over 480 digitally enhanced leveled texts on Ed that seamlessly support skills-based reading instruction in grades K–5.
Rigby Leveled Readers
Rigby® PM Leveled Readers for grades K–5 combine the precise leveling teachers trust with the characters students love, allowing educators to teach reading in a way that transforms every title into a learning moment.
HMH Into Reading
HMH Into Reading's comprehensive approach to literacy for Grades K–6 cultivates readers, writers, and lifelong learners.
HMH Classroom Libraries
Encourage curiosity, creativity, and a love of all subjects with collections of literary and informational texts. Featuring trade books and leveled readers, HMH Classroom Libraries will add sociocultural diversity to your classroom and foster growth across disciplines.
Find out what's new and next. Stay in the loop with the latest webinars, blogs, and more.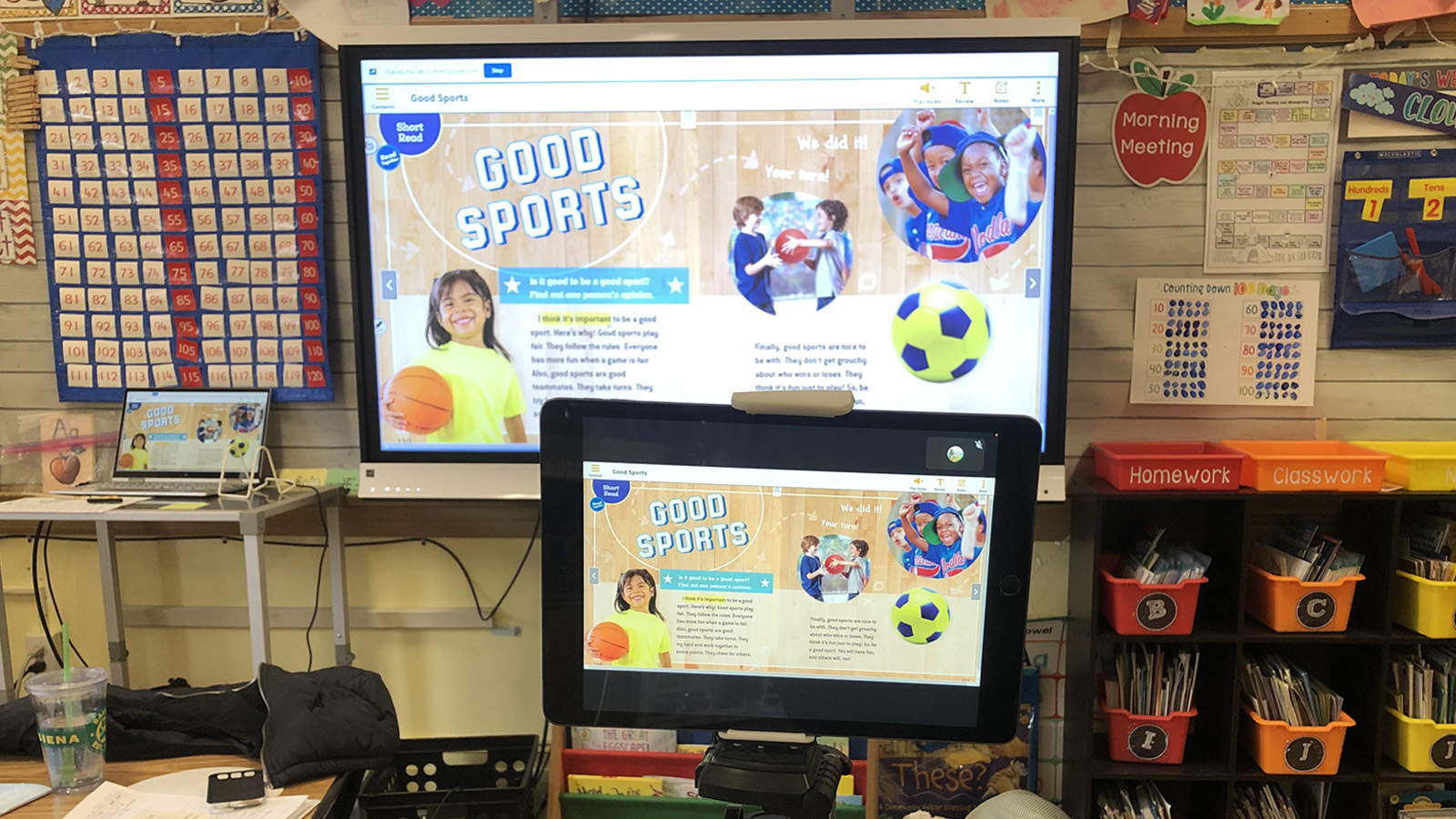 Teaching reading online during the pandemic can be challenging. Learn how to teach reading virtually with these tips from a first-grade teacher.
As an educator, you may ask, how can you engage students in reading? Try these five strategies to boost enjoyment and engagement in literacy.
Connect with us for more details.
Get more information about Hero Academy®