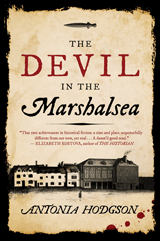 The Devil in the Marshalsea
The first historical crime novel of "scenic intrigue" (Vogue) starring Thomas Hawkins, a rakish scoundel with a heart of gold, set in Georgian London.
---
Format: eBook
ISBN-13/EAN: 9780544176645
ISBN-10: 0544176642
Pages: 256
Publication Date: 06/10/2014
Carton Quantity: 1
---
About the book
The first historical crime novel of "scenic intrigue" (Vogue) starring Thomas Hawkins, a rakish scoundrel with a heart of gold, set in Georgian London. London, 1727. Tom Hawkins refuses to follow in his father's footsteps and become a country parson. His preference is for wine, women, and cards. But there's honor there too, and Tom won't pull family strings to get himself out of debt—not even when faced with London's notorious debtors' prison. The Marshalsea Gaol is a world of its own, with simple rules: Those with family or friends who can lend them a little money may survive in relative comfort. Those with none will starve in squalor and disease. And those who try to escape will suffer a gruesome fate at the hands of its ruthless governor and his cronies. The trouble is that Tom has never been good at following rules, even simple ones. And the recent grisly murder of a debtor, Captain Roberts, has brought further terror to the gaol. While the captain's beautiful widow cries for justice, the finger of suspicion points only one way: do the sly, enigmatic figure of Samuel Fleet. Some call Fleet a devil, a man to avoid at all costs. But Tom Hawkins is sharing his cell. Soon Tom's choice is clear: get to the truth of the murder—or be the next to die.
Reviews
"A scenic intrigue filled with wastrels and gaols." —Vogue's "Buzziest Beach Reads""Alive and immediate. The story crackles with anxiety as Tom finally finds purpose for his idle hands, the true meaning of honor and the identity of the real devil in the Marshalsea." —Chicago Tribune"Historical fiction just doesn't get any better than this. A riveting, fast-paced story…Magnificent!" —Jeffery Deaver, author of the bestselling The Kill Room and Edge"Antonia Hodgson's London of 1727 offers that rare achievement in historical fiction: a time and place suspensefully different from our own, yet real. The Devil in the Marshalsea reminds us at every turn that we ourselves may not have evolved far from its world of debtors and creditors, crime and generosity, appetite and pathos. A damn'd good read." —Elizabeth Kostova, author of The Historian and The Swan Thieves"A wonderfully convincing picture of the seamier side of 18th-century life. The narrative whips along. Antonia Hodgson has a real feel for how people thought and spoke at the time—and, God knows, that's a rare talent." —Andrew Taylor, author of An Unpardonable Crime and The Four Last Things "It is the mesh of lies and duplicity that draws you into this brilliant first novel." —The Times (UK) "There are enough plot twists to fill an upturned three-corner hat and a cast of memorable and believable inmates, good and bad. This is a riveting historical thriller that's finely crafted and difficult to put down." —Daily Mail (UK) "Something new in the world of historical crim fiction, with mesmerising detail and atmosphere." —Financial Times (UK) "Splendid...Impeccably researched and astonishingly atmospheric, with time past evoked so strongly that one can almost smell it, this is a truly spellbinding tale." —The Guardian (UK) "Superbly written, historically accurate, always convincing and often quite chilling...A book to savour." —Crime Review (UK) "The plot develops almost as many intricate turns as there are passages in the Marshalsea…Hodgson's plotting is clever…the local color hair-raising." –Kirkus Reviews "[Hodgson] conjures up scenes of Dickensian squalor and marries them to a crackerjack plot, in her impressive first novel...Hodgson makes the stench, as well as the despair, almost palpable, besides expertly dropping fair clues. Fans of Iain Pears and Charles Palliser will hope for a sequel." --Publishers Weekly (STARRED REVIEW)"Satisfyingly twisty debut thriller...so well detailed that one can almost smell the corruption, and the irrepressibly roguish Tom makes a winning hero." —Booklist
We're sorry
You have selected a product that is available for purchase only by a customer with an Educational Institution account. If you have an Educational Institution account, please sign out and sign back in using an Educational Institution account email address and password.
Bulk Purchasing
For inquiries concerning bulk purchases for corporate use, sales incentives, or nonprofit sales, please email our Special Sales department at TradeSales@hmhco.com.
Reading Guides
Visit Edelweiss to download reading and educator guides. For additional support, please contact your sales rep or email us at TradeHelp@hmhco.com.