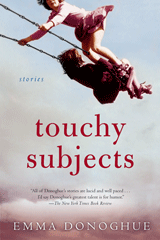 Touchy Subjects: Stories
The twenty stories are about some of today's touchiest subjects. Donoghue delves into private dilemmas and contemporary controversies of all kinds, from religion to money, social lies to family secrets, sexual confusion to facial hair. Two recurring themes are animals and all they mean to us, and babies (whether and how to have them). Several stories replay Biblical plots in surprising modern contexts. Set in Ireland, England, Canada, the USA, France and Italy, these stories feature a wide variety of men, women and teenagers bluffing and blundering their way through their lives.

Set in rural Louisiana, 'Enchantment' is a Cain and Abel story about two crayfishermen (one black, one white) who become rivals when one of them has a near-death experience and - on the Lord's instructions - sets up as a swamp guide. It explores the silences in male friendship, the absurdities of tourism, and the discomforts of religion.

'The Dormition of the Virgin', the diary of a nerdish English student on a mini-break pilgrimage to Florence, is about the gulfs between different nationalities and generations. Absorbed in great art and his own self-important insecurities, the boy is oblivious to a drama going on in his hotel.

In 'Necessary Noise', the Gospel story of squabbling sisters Martha and Mary and their temporarily dead brother Lazarus is transposed to an Emergency department in present-day Manhattan. It probes the complex relations between three teenage siblings whose mother has run away.

'Baggage' recounts a Limerick woman's strange weekend in Los Angeles, trying to track down her missing gay brother. It tests the ties of identity and affection, and looks at the dark secrets of a traditional family.

'Lavender's Blue' is a marital power struggle about the apparently trivial issue of what colour an African-American couple will paint their house.

In 'The Cost of Things', a Canadian lesbian couple hit the rocks when their beloved cat becomes mysteriously - and expensively - ill. This story explores the roles lovers and pets play, and the crucial importance of that thing that isn't supposed to matter: money.

'Pluck' follows an Irish stay-at-home father's descent into a morbid obsession with a hair on his girlfriend's chin. It is about the frustrations of parenting and partnership, and the changing face of gender.

'Good Deed' sets the parable of the Good Samaritan in downtown Toronto, where a busy executive happens across an unconscious homeless man bleeding from the mouth. This story is about the ethical embarrassment of a middleclass man brought face to face with poverty and squalour.

'The Sanctuary of Hands' is the name of a prehistoric cave in the South of France where an Irishwoman on a guided tour is mortified by having to hold the hand of one of a group of 'special needs' visitors. The story probes the covert revulsion of the able-bodied for the disabled, and asks questions about human identity and human contact.

'WritOr' (sic) is about a cheerfully arrogant Writer in Residence at an American university whose first semester turns into a descent through Dante's hells. Tutoring a variety of talentless, needy, would-be novelists and poets, he finds himself losing faith in people and in writing itself.

'Team Men' is set on a Yorkshire boys' soccer team, where new star player Davy is many things to Jon: an easygoing mate, a rival for the approval of Jon's authoritarian father (their coach), and an object of desire. Based on the Old Testament tragedy of David, Jonathan and Saul, this story explores the mute thrills and terrors of a highly macho environment.

'Speaking in Tongues' is about the unexpected, nervous, mutual seduction of a 17-year-old student and a 34-year-old poet at a Galway conference on bilingualism. It looks at the psychology and ethics of lust across a generation gap.

'The Welcome' is the name of a Manchester feminist housing co-operative. In this peculiar little world, young Luce, precise and virginal, falls headlong for her enigmatic new housemate, and finds herself drawn into a domestic war. This story is about the awkward process of forming a self, the blurred line between love and friendship, and the struggle to remake gender.

In 'Do They Know It's Christmas?', an Irish academic couple besotted with their three 'babies' find their wary relationship with the man's parents erupting into conflict when the dogs are not invited for Christmas. This farcical story is about the serious issue of what defines a family.

'Expecting' starts with the tiniest of social lies: an Englishwoman out shopping lets an elderly male stranger think she's pregnant because she can't be bothered correcting his mistake. Drawn into a friendship both touching and distressing, she can't see any way to extricate herself. This story is about our choices (big and small), our glimpses of parallel lives.

'The Man Who Wrote on Beaches' is a American, 'born again' at 43, who feels obliged to rethink his whole life, and decides to marry his partner and have children after all. It concerns the jarring disjunctions between religious and secular mores, and the risky venture of making a baby.

'Touchy Subjects' brings together Padraic and his wife's best friend Sarah in a glamorous Dublin hotel room for a discreet assignation. All she wants is his sperm, but self-insemination proves a tricky business, logistically as well as emotionally. This story explores a very contemporary situation in all its funny, hurtful and embarrassing ramifications.

'Oops' is what James thinks when he carelessly presses a button on an electronic contraceptive device in his oldest friends' bathroom. When he learns that they're expecting, his private guilt gradually gives way to a fondly committed relationship with the child. This story plays with the idea of consequences and responsibility, and the lifelong effects of a secret.

In 'Through the Night', Una has what so many people want, a beautiful healthy baby, but sleep deprivation and post-natal anxiety have brought her to the brink, and a visit from her Irish mother only makes things worse. This story is about the fierce controversies and contradictions in modern childrearing, and the ambivalent tie between mother and daughter.

---
Format: eBook
ISBN-13/EAN: 9780547607498
ISBN-10: 0547607490
Pages: 288
Publication Date: 05/07/2007
Carton Quantity: 1
---
We're sorry
You have selected a product that is available for purchase only by a customer with an Educational Institution account. If you have an Educational Institution account, please sign out and sign back in using an Educational Institution account email address and password.
Bulk Purchasing
For inquiries concerning bulk purchases for corporate use, sales incentives, or nonprofit sales, please email our Special Sales department at TradeSales@hmhco.com.
Reading Guides
Visit Edelweiss to download reading and educator guides. For additional support, please contact your sales rep or email us at TradeHelp@hmhco.com.