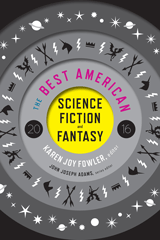 The Best American Science Fiction and Fantasy 2016
Science fiction and fantasy enjoy a long literary tradition, stretching from Mary Shelley, H. G. Wells, and Jules Verne to Ray Bradbury, Ursula K. Le Guin, and William Gibson. In The Best American Science Fiction and Fantasy award-winning editor John Joseph Adams delivers a diverse and vibrant collection of stories published in the previous year. Featuring writers with deep science fiction and fantasy backgrounds, along with those who are infusing traditional fiction with speculative elements, these stories uphold a longstanding tradition in both genres—looking at the world and asking, What if . . . ?
---
Format: eBook
ISBN-13/EAN: 9780544555211
ISBN-10: 054455521X
Pages: 320
Publication Date: 10/04/2016
Carton Quantity: 1
---
About the book
From quiet, elegiac, contemporary tales to far-future, deep-space sagas, the stories chosen by series editor John Joseph Adams and guest editor Karen Joy Fowler for The Best American Science Fiction and Fantasy 2016 demonstrate the vast spectrum of what science fiction and fantasy aims to illuminate, displaying the full gamut of the human experience, interrogating our hopes and our fears—of not just what we can accomplish or destroy as a person, but what we can accomplish or destroy as a people—and throwing us into strange new worlds that can only be explored when we shed the shackles of reality.
The Best American Science Fiction and Fantasy 2016 includes Rachel Swirsky, Sofia Samatar, Charlie Jane Anders, Ted Chiang, Kelly Link, Maria Dahvana Headley, Kij Johnson, Catherynne M. Valente, Dexter Palmer and others
KAREN JOY FOWLER, guest editor, is the author of six novels and four short story collections, including We Are All Completely Beside Ourselves. She is the winner of the 2014 PEN/Faulkner Award, a finalist for the Man Booker Prize, and has won numerous Nebula and World Fantasy awards.
JOHN JOSEPH ADAMS, series editor, is the best-selling editor of more than two dozen anthologies, including Brave New Worlds and Wastelands. He is the editor and publisher of the digital magazines Lightspeed and Nightmare and is the editor of John Joseph Adams Books, a new science fiction/fantasy novel imprint from Houghton Mifflin Harcourt.
Reviews
"A thoughtful array from a star-studded assemblage of writers. . . . [whose] subject matter travels far and wide in time, space, and human memory." —Publishers Weekly
"Intellectually demanding. . . . A very elite, highly curated set of stories; an obvious taste is at work." —Kirkus Reviews, Starred Review
"A standout. The initial entry was a huge success, and 2016 editor Karen Joy Fowler brings a unique, refreshing perspective to this curated collection of the year's best sci-fi and fantasy short stories. Salman Rushdie, Charlie Jane Anders, Kelly Link, and Dexter Palmer lead a strong field of contributors who offer up some of modern genre's best writing and most intriguing ideas."—B&N SciFI & Fantasy Blog
"All in all, this second edition provides a comprehensive overview of the themes and troupes of science fiction and fantasy that continue to fascinate readers. . . the impact of the stories more than makes up for its comparatively smaller package. Highly recommended, especially for those interested in the finest short stories the two genres produced over the past year, but missed reading them when originally published." —Bookgasm
"The second edition to the Best American Science Fiction and Fantsy, edited by Karen Joy Fowler (Mariner), is just as strong as the first, if not stronger. . . . With heavy-hitting authors such as Salman Rushdie, Anders and Sofia Samatar, this volume showcases the nuanced, playful, ever-expanding definitions of the genre and celebrates its current renaissance." —The Washington Post
"There has never been a better time in science fiction and fantasy short fiction, and you need look no further than this collection to see that truth. Within, you will find magic, aliens, dystopia, fairy tales, terrifying technology, far-flung futures, uncanny planets, and more. But you'll also find heartbreak, laughter, compassion, complex morality, acceptance, strength in numbers, love, justice, the absurd, and the bittersweet. Let this collection take you to lands uncharted, and lands unknown, and lands unseen—you will be glad you went, and in these countries, there is something for everyone." —Tor.com
We're sorry
You have selected a product that is available for purchase only by a customer with an Educational Institution account. If you have an Educational Institution account, please sign out and sign back in using an Educational Institution account email address and password.
Bulk Purchasing
For inquiries concerning bulk purchases for corporate use, sales incentives, or nonprofit sales, please email our Special Sales department at TradeSales@hmhco.com.
Reading Guides
Visit Edelweiss to download reading and educator guides. For additional support, please contact your sales rep or email us at TradeHelp@hmhco.com.