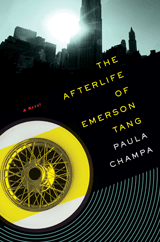 The Afterlife of Emerson Tang
A driving, panoramic novel of four strangers whose personal struggles with grief become interconnected through their quest to reunite the body and engine of a vintage car.
---
Format: eBook
ISBN-13/EAN: 9780547792798
ISBN-10: 0547792794
Pages: 288
Publication Date: 03/12/2013
Carton Quantity: 1
---
About the book
A beloved car becomes a piece of us—a way back into our histories or forward into our destinies. For Emerson Tang, the only son of a prominent New England family, that car is a 1954 Beacon. A collector—of art and experience—Emerson keeps his prized possession safely stored away. But when his health begins to fail, his archivist and caretaker is approached by a secretive French painter determined to buy the Beacon at any cost. They discover that the Beacon has been compromised and that its importance reaches far beyond Emerson's own history.

Soon they run into another who shares their obsession: the heir to the ruined Beacon Motor Company, who is determined to restore his grandfather's legacy. These four become unlikely adventurers, united in their aim to reunite the Beacon's original body and engine, pitted against one another in their quest to claim it. Each new clue takes one closer to triumph, but also takes these characters, each grieving a deep loss, toward finding missing pieces of their own lives.

A fast-paced ride through the twentieth century—to modernism, fascism, and industrialism, to Manhattan, a German zeppelin, a famed concours in Pebble Beach, and a road race in Italy—The Afterlife of Emerson Tang takes us deep into our complicated automotive romance. A novel of strangers connected across time, through a car that is so much more than a car, it asks us what should be preserved, what memories to trust, and whether or not some of the legacies we hold most dear—including that grand contraption, the automobile—can be made new again.

Reviews
"Asks us to re-imagine the future through our knowledge and appreciation of the past.... [and] celebrates the excitement of progress.... I cannot recommend this book enough." - Design Talks                                                                                                                                                                                                                                                                                                                                                      "Moving, psychologically complex and passionately written....Champa delves into individual souls and emotions in her riveting, layered tale that holds its surprises right up until the end." - The Providence Joournal
"In these pages, Paula Champa conceives the ideal automobile: a total fusion of power and beauty. Her stunning first novel likewise brings those qualities into perfect balance. The raw emotion of her story and the restrained elegance of her writing together make for a literary tour de force."
—Jonathon Keats, author of The Book of the Unknown
"A vintage 1954 Beacon car is the axis around which four characters revolve, trying to accept and resolve each of their sorrows in Champa's vividly detailed debut...[an] intellectual yet deeply human examination of what it means to live as well as to die."--Booklist
"Compelling."--Publishers Weekly
"Ms. Champa's story is uimately about time, memory and change, hope and regret. It is wrapped around an old-fashioned mystery. It is also about what a car can mean emotionally to its owner and driver." - New York Times Wheels Blog
"Constructed like a mind-bending puzzle. Only at the end are the characters' true relationships to one another and to the coveted Beacon revealed.... Beth Corvid's quest to restore a classic racing car before her employer's death is both a cleverly written, complex mystery and a meditation on mortality." —Shelf Awareness
"This novel brings together a love of vintage cars with more profound thoughts on life and death... [O]nce it takes hold the book will keep you captivated until the surprising ending... If you enjoy a thoughtful and challenging story with a few "aah-ha" moments when suddenly the author's true intent shines forth, this will be a very satisfying read." — TheCalifornian.com
"The story, at its heart, is a lush character study that examines universal themes of life, death, grief, and change through an automotive lens….a real page-turner." — Driveshaft
"[T]he book's insights about art and design are stunning at times. Champa suggests that if design inhabits our lives at all, then we have a responsibility to become custodians to our own potential for encountering beauty." — Style Weekly            
We're sorry
You have selected a product that is available for purchase only by a customer with an Educational Institution account. If you have an Educational Institution account, please sign out and sign back in using an Educational Institution account email address and password.
Bulk Purchasing
For inquiries concerning bulk purchases for corporate use, sales incentives, or nonprofit sales, please email our Special Sales department at TradeSales@hmhco.com.
Reading Guides
Visit Edelweiss to download reading and educator guides. For additional support, please contact your sales rep or email us at TradeHelp@hmhco.com.