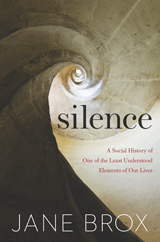 Silence: A Social History of One of the Least Understood Elements of Our Lives
Another "dazzling epic" from the author of Brilliant, exploring an overlooked yet elemental force in our lives—silence—from contemporary Cistercian monks to an extraordinary 19th-century prison.
*Lev Grossman, Time
---
Format: eBook
ISBN-13/EAN: 9780544702516
ISBN-10: 0544702514
Pages: 272
Publication Date: 01/15/2019
Carton Quantity: 1
---
About the book
From the author of the "dazzling epic"* Brilliant, a compelling history of silence as a powerful shaper of the human mind—in prisons, in places of contemplation, and in our own lives
Through her evocative intertwined histories of the penitentiary and the monastery, Jane Brox illuminates the many ways silence is far more complex than any absolute; how it has influenced ideas of the self, soul, and society. Brox traces its place as a transformative power in the monastic world from Medieval Europe to the very public life of twentieth century monk Thomas Merton, whose love for silence deepened even as he faced his obligation to speak out against war. This fascinating history of ideas also explores the influence the monastic cell had on one of society's darkest experiments in silence: Eastern State Penitentiary. Conceived of by one of the Founding Fathers and built on the outskirts of Philadelphia, the penitentiary's early promulgators imagined redemption in imposed isolation, but they badly misapprehended silence's dangers.
Finally, Brox's rich exploration of silence's complex and competing meanings leads us to imagine how we might navigate our own relationship with silence today, for the transformation it has always promised, in our own lives. 
*Time
Reviews
"Brox writes beautifully . . . Silence for her is a force of nature, awe provoking, like lightning, capable of electrocuting us and of illuminating the night."
—New York Times Book Review
"Silence: A Social History of One of the Least Understood Elements of Our Lives couldn't come at a better time.  A wonderfully evocative writer with a knack for the illuminating detail, Ms. Brox explores the history and cultural meaning of silence through the story of a prison and a monastery: Eastern State Penitentiary in Philadelphia and the Abbey of Gethsemani in rural Kentucky. It is an unusual and useful approach . . .  Ms. Brox's engaging book offers readers an opportunity to explore a few crucial moments of that history and, in the process, to ponder what silence—or its absence—tells us about the world we are making every day."
—Wall Street Journal
[A] meditation that juxtaposes monastic and prison silence and solitude to explore silence's positive and negative aspects… Where one might expect a neat binarism between restorative and punitive silence, Brox skillfully resists depicting one as all good and the other as all bad, showing instead how silence designed to reform and redeem might instead oppress, and how silence designed to strip away attachments to ego and to temporal goods might also distill and reveal one's character. Brox's elegant, thoughtful survey of social deployments of silence introduces to readers the continuum of its potential harms and benefits."
—Publishers Weekly
 "With each skillful shift in her narrative, Brox reveals how easily silence has been woven into society, where it is used alternately as weapon and balm. Her ability to juxtapose prisons and monasteries, fear and peace is remarkable, and her graceful prose, which appears effortless, draws upon a wealth of research. This is history at its most effective: elegant, essential, and provocative."
—Booklist
"The nuances and complexities of silence. Brox moves from the openness and space found in her earlier, well-received books on farms to places far more confining. This poignant and somber book is as much about solitude as it is silence...A perceptive and subtle meditation about a 'true reckoning with the self.'"
 —Kirkus Reviews
"It is the great wit of this thoughtful book to juxtapose the silence of punishment with the silence of spiritual life and, in so doing, to deepen our understanding of each."
—Lewis Hyde, author of The Gift: Creativity and the Artist in the Modern World
"In her stunning new book, Silence, Jane Brox has once again taken a seemingly familiar subject and made it the focus of her laser-like attention and lyrical prose, bringing readers along on a journey of investigation they will never forget. Working from two extremes—silence as solace to the contemplative spirit, silence as punishment for the rebellious or merely unlawful—Brox uncovers a history that both shocks and soothes. Silence is an uncommon book on an increasingly uncommon phenomenon, a gift to be treasured in the din of daily life."
  —Megan Marshall, Pulitzer Prize-winning author of Margaret Fuller: A New American Life and Elizabeth Bishop: A Miracle for Breakfast
We're sorry
You have selected a product that is available for purchase only by a customer with an Educational Institution account. If you have an Educational Institution account, please sign out and sign back in using an Educational Institution account email address and password.
Bulk Purchasing
For inquiries concerning bulk purchases for corporate use, sales incentives, or nonprofit sales, please email our Special Sales department at TradeSales@hmhco.com.
Reading Guides
Visit Edelweiss to download reading and educator guides. For additional support, please contact your sales rep or email us at TradeHelp@hmhco.com.