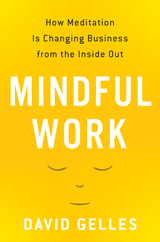 Mindful Work: How Meditation Is Changing Business from the Inside Out
An investigation of the growing trend among major companies, including Fortune 100 giants, to promote mindful activities like meditation and yoga in the workplace, and its often surprising effects on productivity, strategy, and employees' mental health.
---
Format: eBook
ISBN-13/EAN: 9780544226326
ISBN-10: 0544226321
Pages: 288
Publication Date: 03/10/2015
Carton Quantity: 1
---
About the book
A New York Times reporter reveals what business leaders around the country are already discovering: Meditation may be the key to fostering a happier, more productive workplace.
For the past few years, mindfulness has begun to transform the American workplace. Many of our largest companies, such as General Mills, Ford, Target, and Google, have built extensive programs to foster mindful practices among their workers. Mindful Work is the first book to explain how all sorts of businesses and any kind of worker can benefit from meditation, yoga, and other mindful techniques. As a business reporter for the New York Times who has also practiced meditation for two decades, David Gelles is uniquely qualified to chart the growing nexus between these two realms. As he proves, mindfulness lowers stress, increases mental focus, and alleviates depression among workers. He also offers real-world examples of how mindfulness has benefited companies that have adopted it — from the millions of dollars Aetna has saved in health-care costs to the ways Patagonia has combined leadership in its market with a pervasively mindful outlook.
Gelles's revelatory book picks up where bestsellers like Thrive and 10% Happier leave off, by detailing how mindfulness works in and for the companies that adopt it, revealing the profound impact mindfulness can have on the world of work. Mindful Work goes beyond other books on the subject by providing evidence for the practical benefits of mindfulness and showing readers how to become more mindful themselves.
Reviews
"Brimming with insights and backed up with solid research, Mindful Work takes us to the front lines of a revolution that is transforming the business world."
—Arianna Huffington
"Gelles has done a masterful job of capturing the 'mindfulness movement'. His candid analysis and his dialogue with people from all facets of this movement paint a wonderfully clear view of a potent proposition for living and working in better ways."
—Scott Kriens, Chairman, Juniper Networks, and Director, 1440 Foundation
"In this compelling book, Gelles describes how apparent paradoxes can resolve into a business culture where taking a breath is part of making a buck."
—Sherry Turkle, author of Alone Together
"In this wise and revealing work, David Gelles explains how Eastern wisdom is transforming the Western workplace. Smart, hopeful and inspiring, this is a book with a wide reach and a clear focus."
—Mark Epstein, author of The Trauma of Everyday Life and Thoughts without a Thinker: Psychotherapy from a Buddhist Perspective
"A delightful, authoritative, and provocative guide to the new world of mindfulness at work. David Gelles covers the story from the inside out, giving readers exactly what they need to assess whether mindfulness is for them — and, if so, how to forge ahead. Give this book your full attention."
—Daniel Goleman, author of Focus and Emotional Intelligence
"This stunning new book is by far the most insightful, practical guide to mindfulness and meditation. Gelles, who has deep experience with mindfulness, takes us inside leading companies like Google, General Mills, Aetna, and Patagonia to show how meditation is transforming workplaces. Mindful Work could change your life."
—Bill George, Harvard Business School, former CEO of Medtronic, and author of True North
"Gelles deftly shows the power of mindfulness to change individuals, businesses and our world for the better. Mindfulness is a practice we need to embrace, and we cannot be afraid to follow this path."
—Marc Benioff, Chairman & CEO, Salesforce
"Mindfulness in the workplace is a real trend and few are as well equipped to explain it as David Gelles. He expertly conveys how companies incorporate mindfulness principles into their cultures and offers practical tips to managers on how to do the same."
—Reid Hoffman, co/founder & chairman, LinkedIn and co-author of The Alliance
"This carefully researched, heartfully written, and delightfully readable book tells one of the most interesting true stories of our time: the fascinating and sometimes messy coming together of the wisdom world and the corporate world."
—Chade-Meng Tan, Jolly Good Fellow of Google, author of Search Inside Yourself
"Readers curious about the benefits of mindfulness at work or in their personal lives will appreciate this book."
—Booklist
"Intriguing, timely, and enjoyable new book, a fascinating account of the increasing adoption of these ancient oriental disciplines by western businesses as means of improving corporate efficiency, reducing employee stress, and, directly or indirectly, boosting the bottom line."
—Financial Times
We're sorry
You have selected a product that is available for purchase only by a customer with an Educational Institution account. If you have an Educational Institution account, please sign out and sign back in using an Educational Institution account email address and password.
Bulk Purchasing
For inquiries concerning bulk purchases for corporate use, sales incentives, or nonprofit sales, please email our Special Sales department at TradeSales@hmhco.com.
Reading Guides
Visit Edelweiss to download reading and educator guides. For additional support, please contact your sales rep or email us at TradeHelp@hmhco.com.