READ 180 for Students in Special Education
Every student learns differently. No one knows this better than a parent of a child with special needs. READ 180 assesses and teaches to the specific needs and strengths of each child, providing customized instructions to help him or her succeed in the classroom.
Special Features
Age-appropriate, adaptive software lets students move at their own pace.
Small-group learning allows teachers to tailor instruction to students' needs.
Interactive lessons and information delivered in many modes—such as...
Read More
What is an IEP?
Every student who receives special education services must have an education plan designed to meet the student's specific needs. This plan is called an Individualized Education Program (IEP)...
Read More
ELL, PDD, IEP—OMG: Decoding the Special Education Acronyms
When our son was a toddler, he began speech therapy through Early Intervention. Suddenly, my husband and I found ourselves in the uncharted waters of special education...
Decoding the Special Education Acronyms (PDF)
Research Snapshot
READ 180 Students in Special Education Closed the Gap in Reading Performance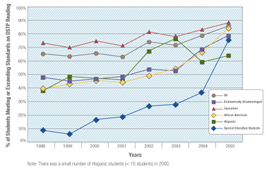 See Results
The Center for Applied Special Technology (CAST)
READ 180 was developed in association with the Center for Applied Special Technology (CAST). Led by Dr. David Rose of Harvard University, the team at CAST helped design READ 180 with various features and functions that make learning more accessible to all students in the program, including Special Education students. To learn more about CAST, visit their website: www.cast.org